So I've got to the quest which requires you to go through a series of portals to get to locations. Is there a list of which portals you have to go through and in what order to get to each place? I've been going round in circles for ages
Royal Guardian
Characters
BashaDrake, Elmeti, Knytro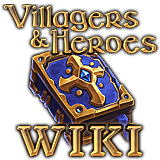 Keppel Cavern is a zone in Villagers & Heroes. A seeming paradise with its lush greenery, sandy beaches, and sparkling waters, this enchanted cavern, however, is far from idyllic. A terrarium for diabolical experiments, exactly what Lord Pyrrus is up to here, or why disfigured mutants wander...

villagersandheroes.fandom.com
Hope this is the info you needed.
Royal Guardian
Characters
Zazie, Shiny, Skip, Auntie, Neither
So I've got to the quest which requires you to go through a series of portals to get to locations. Is there a list of which portals you have to go through and in what order to get to each place? I've been going round in circles for ages
The basic thing to remember in Keppel is that there are two different kind of arches. Arches with an orange light in them indicate that a bounty is nearby. The arches with a green light will teleport you to a different location within the zone.
When you're running bounties in the zone, you can either use the arches to teleport places (to make your run more efficient) or ignore them. About 7 years ago, a guild on US1 had a website which included maps of various Pyrron zones, marked with a suggested route for each zone. I just did a Google search for it (thinking that it might have also been posted on the old V&H forums), but I cannot find the image, and the website no longer exists.
Chances are that the creator of those maps (who is no longer a 15 year old player, but now a gainfully-employed,
busy
, college graduate
hint, hint
) or another long-time player still has a copy of the images somewhere. None of those zones have significantly changed over the years -- They only had their lighting brightened and graphics updated, in a few cases. The zone route maps that I distinctly remember existing were for Keppel, Creation Caves, and Fungal, and they were
most helptul!
The last time I was in Creation Caves, my friend that I was running with managed to find the map for Creation Caves, after some digging. I think maybe it was posted somewhere on the old Fandom/Reborn Wiki???